Radzio! Modbus Master Simulator
This software utility is written for testing Modbus slave devices. Modbus protocol exist for serial port (RTU) and for Ethernet (TCP). Modbus allows for communication between many devices connected to the same network. Free replacement for applications like ModScan, Modbus Poll etc. Support for Modbus TCP and Modbus RTU protocols. Modbus Master Simulator supports multiple Modbus slave devices.
New features :
- RTU over TCP mode
- ASCII display options
- fixed and variable background color settings for each cell
- floating point variable display mode
- reset button for frame counters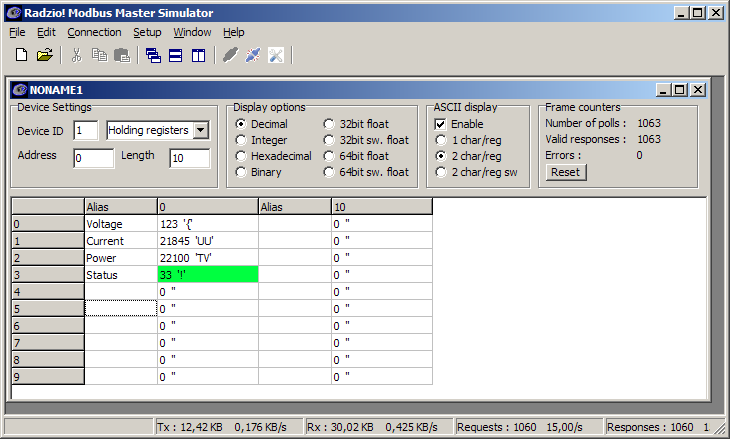 Img 1. Main window of Radzio Modbus Master Simulator
Radzio! Modbus Master Simulator is in development stage. Last update : 28.10.2017. Click below to download :
You can support this program development by donation using PayPal (button in main menu).
LICENSE
Copyright (c) 2010-2014, Radosław Kwiecień  <radek(at)dxp.pl>
Permission to use, copy, and/or distribute this software for any purpose with or without fee is hereby granted, provided that the above copyright notice and this permission notice appear in all copies.
THE SOFTWARE IS PROVIDED "AS IS" AND THE AUTHOR DISCLAIMS ALL WARRANTIES WITH REGARD TO THIS SOFTWARE INCLUDING ALL IMPLIED WARRANTIES OF MERCHANTABILITY AND FITNESS. IN NO EVENT SHALL THE AUTHOR BE LIABLE FOR ANY SPECIAL, DIRECT, INDIRECT, OR CONSEQUENTIAL DAMAGES OR ANY DAMAGES WHATSOEVER RESULTING FROM LOSS OF USE, DATA OR PROFITS, WHETHER IN AN ACTION OF CONTRACT, NEGLIGENCE OR OTHER TORTIOUS ACTION, ARISING OUT OF OR IN CONNECTION WITH THE USE OR PERFORMANCE OF THIS SOFTWARE.
If You have any suggestions for improvement of this software or error report please write to me :